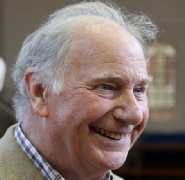 Visit my Facebook page
Welcome to the official website of novelist
Tony Whelpton
Tony Whelpton is an English novelist, and not one of the youngest you'll find around, although he's both physically and mentally a lot younger than his Birth Certificate shows, and he lives in Cheltenham, in the Cotswolds, a beautiful area of the South-West of England.

In an earlier existence which, Tony says, seems to be a lifetime ago, he taught French in a university, and for many years he wrote books designed to help people who were trying to learn French - many published through a company called TD Publications which he founded himself. He closed that business when he was 75, thinking that it was time to retire and lead a quiet life.
But then he started writing fiction and suddenly realised that this is what he should have started doing long ago, and here he is, eight years later, with three successful novels to his name, a fourth just published and a fifth well on the way and due to be published in time for Christmas 2016!
The first, Before the Swallow Dares, was published in 2012, the second, The Heat of the Kitchen, came out in 2013, then Billy's War in 2014 and its sequel There's No Pride In Prejudice on 1 June 2016.
If you didn't believe what was said above about being younger than his years, five novels in five years ought to convince you!
Tony's third novel, Billy's War, has been successful beyond his wildest dreams, with many people demanding to know what happened to that charismatic little boy in later life.

Now the sequel is finally written, and will be published
in the Amazon Kindle Store on 1 June 2016.
(It is already available for preorder, and the paperback is already available
in the createspace.com bookstore for $12.25.)
Tony is already hard at work on his next, returning to his home city of Nottingham
for the setting of
A Happy Christmas
which, he hopes, will be finished and on sale in time for Christmas 2016!
Tony's latest novel!
There's No Pride In Prejudice is a sequel to Billy's War, and you can find out more about it by clicking the Tony's Novels tab at the top of this page.
If you haven't ready Billy's War yet, you have two options:
1 Read it first.
2 Read it after, because once you've read There's No Pride In Prejudice you'll undoubtedly want to know more about this extraordinary man and his even more extraordinary childhood!
This is a feature from the Gloucestershire Echo, 14 June 2016.
(For some reason, they appear to think Billy's War was my first novel, even though they have done special features on all four!)
Contact Tony directly by email!
tony[@]literarylounge.co.uk
NB. To be able to contact Tony by using this email address, you need to remove the square brackets first, or it won't work!
There is a slightly longer article - and another photograph in the online version. Click on this link to view it: