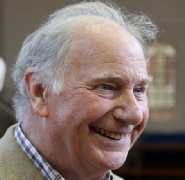 Visit my Facebook page
Welcome to the official website of novelist
Tony Whelpton
Tony Whelpton is an English novelist, and not one of the youngest you'll find around, although he's both physically and mentally a lot younger than his Birth Certificate shows, and he lives in Cheltenham, in the Cotswolds, a beautiful area of the South-West of England.

In an earlier existence which, Tony says, seems to be a lifetime ago, he taught French in a university, and for many years he wrote books designed to help people who were trying to learn French - many published through a company called TD Publications which he founded himself. He closed that business when he was 75, thinking that it was time to retire and lead a quiet life.
But then he started writing fiction and suddenly realised that this is what he should have started doing long ago, and here he is, nine years later, with five successful novels to his name, and a sixth whose first draft is about 25% done and which should be published later this year.
The first, Before the Swallow Dares, was published in 2012, the second, The Heat of the Kitchen, came out in 2013, then Billy's War in 2014 and its sequel There's No Pride In Prejudice on 1 June 2016. A short novel called A Happy Christmas came out in October 2016, and A Change of Mind exactly a year later. If you didn't believe what was said above about being younger than his years, six novels in five years ought to convince you!
Tony published his first novel in 2012, at the age of 79. Since then he has written five more, with the latest due to be published in early October 2017, and launched at the Cheltenham Literature Festival on 12th October. Called A Change of Mind, it is the most autobiographical of Tony's novels, in that the main character, Maurice Summerfield, is afflicted by an appalling stammer in his early 80s – which is exactly what happened to Tony himself. But Tony insists that this is only his starting point, for there are many ways in which Maurice is different from Tony, and his circumstances are different too.
Fortunately, although Tony's stammer is not cured – there is, sadly, no known cure for a stammer – it is much less troublesome than it was, and he is delighted to be included in the official Cheltenham Literature Festival for the very first time. Make sure you're there!
Tony's latest novel!
Maurice Summerfield was an old man, a very old man indeed, who claimed he 'could remember his 90th birthday as if it had happened only yesterday'. He was also something of a celebrity, having been a popular broadcaster for many years, a lecturer at both Cambridge and Oxford, and between those two academic phases of his life, he had spent ten years as an MP.
But, despite his undoubted success in a number of spheres, he came from a very modest background, his father a coal miner, his mother a factory worker in the Nottingham; as for his brother Paul, the less said the better…
Maurice, however, was rather less impressed than others by what he had achieved, and when, in his early eighties, he found himself stricken by a speech defect so appalling that this arch-communicator was transformed into a gibbering wreck, he became convinced that the underlying cause was low self-esteem; the first hurdle he needed to cross in his quest to rediscover his fluency of speech was to persuade other people that someone so outwardly successful could possibly be suffering from a crisis of confidence. Fortunately he had a formidable ally in his loving wife Elaine…

Click here to see a feature from the Gloucestershire Echo,
12th September, headed 'Give this man a medal…'!
Contact Tony directly by email!
tony[@]literarylounge.co.uk
NB. To be able to contact Tony by using this email address, you need to remove the square brackets first, or it won't work!
The Times and Sunday Times Cheltenham Literature Festival 2017
Tony Whelpton will be talking about his work and reading from A Change of Mind between 4.30 and 5 pm on Thursday 12 October, in The Huddle,
in Montpellier Gardens, Cheltenham.
Entry is free, and there is no need to book – just turn up!