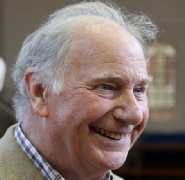 Visit my Facebook page
Welcome to the official website of novelist
Tony Whelpton
Tony Whelpton is an English novelist, and not one of the youngest you'll find around, although he's both physically and mentally a lot younger than his Birth Certificate shows, and he lives in Cheltenham, in the Cotswolds, a beautiful area of the South-West of England.

In an earlier existence which, Tony says, seems to be a lifetime ago, he taught French in a university, and for many years he wrote books designed to help people who were trying to learn French - many published through a company called TD Publications which he founded himself. He closed that business when he was 75, thinking that it was time to retire and lead a quiet life.
But then he started writing fiction and suddenly realised that this is what he should have started doing long ago, and here he is, nine years later, with seven successful novels to his name, and, what's more, he was invited to talk about one of them at the prestigious Cheltenham Literature Festival in October 2017!

The first, Before the Swallow Dares, was published in 2012, the second, The Heat of the Kitchen, came out in 2013, then Billy's War in 2014 and its sequel There's No Pride In Prejudice on 1 June 2016. A Change of Mind followed exactly a year later, and High Time a year after that, and now his latest, At Dead of Night, has just been added to the list. If you didn't believe what was said above about being younger than his years, seven novels in seven years ought to convince you!
Tony published his first novel in 2012, at the age of 79. Since then he has written six more, with the latest being published on 5 September 2019.
If you are a regular visitor to this website, I expect you have noticed that he has started to become rather irregular when it comes to publishing updates. The honest answer is that he is not quite as young as he used to be, and, what's more, he gets increasingly impatient with the idiosyncrasies and foibles of computers.
As a result, he has decided to make this website rather less complex than it was, and only update when there really is something new to report. Basically, he would prefer to write stories than fiddle about with websites. Essentially the only important difference you will notice is that it will no longer be possible to buy books direct from this site. But the links to Amazon will still be there, and I hope you will keep coming back, and that Tony will be strong enough to continue writing fiction for several years!


Tony's latest novel,
At Dead of Night!
I didn't call the police.
Your family did.
It is the dead of night when David's bedside telephone rings, brutally rousing him from sleep.


Bewildered, he answers, only to be left shocked
by the message passed on to him by the caller.


But was the call meant for him
and is the caller really who they seem?
Contact Tony directly by email!
tony[@]literarylounge.co.uk
NB. To be able to contact Tony by using this email address, you need to remove the square brackets first, or it won't work!
The Times and Sunday Times Cheltenham Literature Festival 2017
Click here to see a feature from the Gloucestershire Echo,
12th September 2017, headed 'Give this man a medal…'!